Find a product
Mask inside holder
Mask inside holder
It was developed to make a comfortable space while wearing a mask. This is an auxiliary device. And it prevents discomfort and heat buildup.

Product Information
Concept
The 3D design provides excellent stability on a face, and a space can be created simply by hanging a mask.
The appearance is inconspicuous because only the hook is visible.
Its weight is only 5g, so it is comfortable to wear it for a long time.
It can be attached to non-woven fabric and cloth (thickness 2.4mm or less).
The holder which is made by PP (polypropylene) material can be cleaned with alcohol or water.
It can be used for all seasons.
Application
Attached when using a mask
Minimum order quantity
300 pieces
specification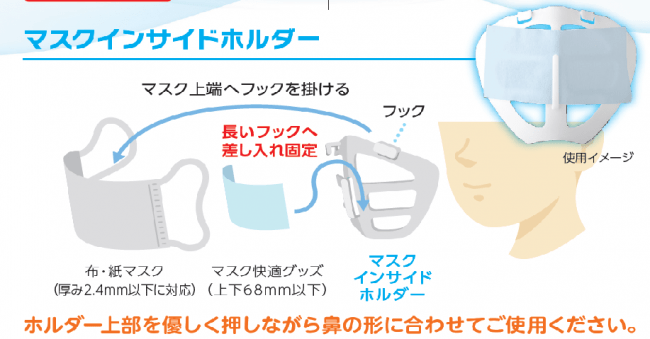 Other products